Congrats Christina for being our featured Superstar! As recently commented "she is the glue to the company" and that is a fact.
Christina comes from Arkansas where she worked for a large Freight Company for 13 years before moving West. Christina is married to Ted and has two wonderful boys who are both married and have blessed Christina with grandchildren.
Christina joined the Western Roofing Family September 2004 and prides herself on always providing 100% customer service. Her spontaneous words and positive attitude is a wonderful first impression of the company.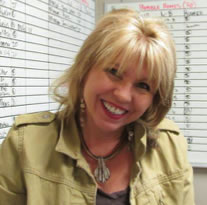 Christina has continued to learn, grow add responsibilities frequently and continues to teach all of us the true meaning of loyalty, friendship, dedication and personal spirit.
Christina enjoys camping, fishing, boating, snowmobiling, hunting, 4 wheeling, and just being together with family as much as possible.
Christina's philosophy in her own words "I just love life, people, and want everyone to be happy."
-Blessed to have you Christina Robert, Holly Drinkard & Team